Lipina
Location: Štáblovice-Lipina
Tourist route:

Today's Lipina is a part of the community of Šťáblovice. It is situated in the foothills of the Jeseníky Mountains in the valley of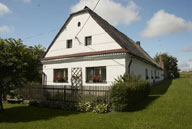 the river Hvozdnice. Lipina is a settlement located high in a forest complex called "Benešovská". Starting from the 16th century, Lipina was a part of castle properties of the Hradec Domain. Then it became depopulated and towards the end of the 18th century Germans from the regions around the river Odra settled there. It was Germans who built there (preserved to this day) homes and buildings in the Eastern Sudeten style. There is a memorial from 1919 in memory of soldiers who died in World War I, situated in the centre of Lipina.