The castle park
Location: Racibórz-Ostróg
Bicycle trails: 2
Tourist route:

It takes up 13,6 hectares with numerous specimens of old trees. In the north part there is also a little meadow near the river.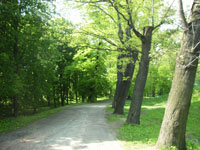 It is the mainstay of black poplar, known also as sokora. A few monumental specimen survived there. The Circumference of the trunks is over 5 meters each, which shows that these trees are about two hundred years old. One should also take a look at the great marsh oaks and huge red oaks. Walking along park`s alleys one may admire the view of Racibórz on the left bank of the river. One can enter to the park by the footbridge from the side of the Soviet soldiers cemetery.