The Łężczok reserve
Location: Racibórz-Babice
Tourist route:


- Husarii Polskiej


- Polskich Szk. Mniejszość


- Młodości Eichendorfa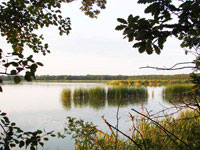 Situated in the old river basin of the Odra river. It takes up about 400 hectares of land, managed by the Cistersium monks from the monastery in Rudy. The monks created fish ponds and planted trees along the dikes. Today the reserve is not only the tree alleys and ponds, but also a riverside forest (with numerous varieties of trees) and a very fertile soil. It is also natural home to numerous varieties of plants and animals, especially water and marsh birds. Flora of the reserve totals to 400 varieties of vessel plants (70 varieties of trees and bushes, 54 varieties of spore plants, among others). There are over 30 varieties of legally protected plants, some put in the Polish red book of plants threatened with extinction. There is also a unique world of mushrooms and insects. Through the reserve runs a path called Aleja Husarii Polskiej. In 1683 king Jan III Sobieski took this path to Vienna.