Location and nature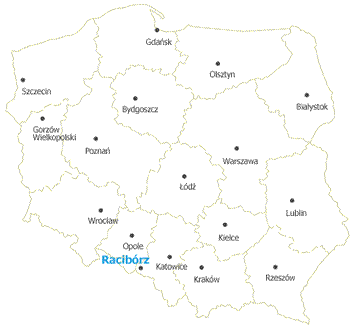 The town of Raciborz is situated in the upper Odra River basin, at the Moravian Gate, not far away from the border with the Czech Republic. This Upper Silesian centre, with its rich historical heritage, has been for ages heavily influenced by Polish, Czech-Moravian and German cultures.
Raciborz is an important railway and road hub. Here are the roads that run through the town: Katowice - Bielsko-Biała – Rybnik – Raciborz – Klodzko, Opole – Raciborz – Ostrava and Gliwice – Raciborz – Opava – Olomuniec. Moreover, the town is a significant railway junction with the following lines: Ostrava – Raciborz – Rybnik – Katowice, Ostrava – Raciborz – Kedzierzyn-Kozle – Opole, and Raciborz – Glubczyce.
There is a first-category border crossing checkpoint in Chalupki. There are also minor local border crossing points like Pietraszyn – Sudice, Chalupki – Silherovice, Tworkow – Hat, Rudyszwald – Hat, Boleslaw – Pist, Krzanowice – Chuchelna, and Krzanowice – Strahovice. Apart from that, Raciborz is about 45 kilometres from an international airport in Ostrava and approximately 90 kilometres from an international airport in Katowice - Pyrzowice.



Most tourists do not appreciate this part of Poland while, both Raciborz and its surroundings offer enchanting forests, unique nature as well as very old historical monuments. In the vicinity of Raciborz, there is a forest and lake natural reserve, Łężczok, covering an area of 400 hectares. It is a home of various birds, for example, black storks, grebes or cormorants. However, not only ornithologists can find something interesting there. Łężczok gives a chance of admiring a marshy forest, that is very rare in Poland, as well as several hundred-year-old oaks and beeches, surrounded by clumps of reeds and other marshy plants.
When walking in the vicinity of the market square, visitors pass numerous historical buildings reconstructed after the Second World War, for example, a late-Classicist building of a court, neo-Gothic prison, remnants of the prison's walls as well as numerous sacral buildings.
A Raciborz landmark, Virgin Mary's column, was built in 1725 as an act of thanksgiving for saving the town from an outbreak of cholera.
A former Holy Spirit Church, a seat of Dominican nuns, was turned into a museum offering numerous attractions to the visitors, for example, an Egyptian mummy brought to Raciborz in the middle of the 19 th century and a Gothic tiled stove, moved from the Piast Castle (reconstructed mainly from original tiles).
Therefore, when going on holiday to the south of Europe, do pay us a visit and find out more about Raciborz and its attractions.