Sanatoria Klimkovice
Location: Klimkovice
Bicycle trails: 6011, 6140
Tourist route: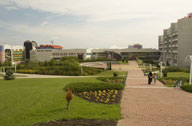 The private sanatorium in Klimkovice welcomes patients not only from the Czech Republic, but also from abroad. The local water, rich in iodine and bromine, is known for its beneficial effects on human health. It's a unique kind of water that originated in the Tertiary Era. The main healing effects of this water are, among others, removing inflammatory conditions and speeding the healing of wounds. It affects tissues, blood vessels and the respiratory system. In the museum one can take a look at exhibitions about flora and fauna in the valley of the river Odra and also about the history and present times of Klimkovice. There is also a special room in the museum devoted to painter and writer Helena Salichová.