Zugló
Zugló, the 14th district of the capital city Budapest


with the area of 18.15 km², located in the centre of Budapest.
The district is of suburban character owing to the park and the prevailing detached residences. Apart from Városliget, a city park with the area of 1.2 km², Zugló also offers plenty of museums and attractions.


Signing of the co-operation agreement on 11th December 2008.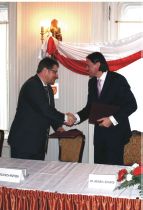 In the photo, from the left:
Vice-President of Racibórz Wojciech Krzyżek
Mayor of Zugló Leonárd Weinek,
The agreement is a result of over 10 years of co-operation between educational institutions of both cities. The long-term co-operation started in 1997 during the great flood on the initiative of Polish community.


Partnership co-operation covers the following areas:
education and upbringing,
social affairs,
culture,
tourism, sports and recreation,
co-operation in environmental protection,
co-operation in counteracting the impact of disasters,
exchange of experience in administration and local government work.
Contact
Zugló Önkormányzat Polgármestere
Pétervárad u. 2
1145 Budapest
Węgry
Telefon: +36 1 8729 100
E-mail: SEND A MESSAGE
https://www.zuglo.hu/https:/
/www.facebook.com/zuglo14/