Opava
Opava is situated in the north-eastern part of the Czech Republic, on the Opava River, approximately 30 kilometres from Raciborz (border crossing point: Pietraszyn – Sudice). Opava with its rich historical heritage and traditions is an attractive place for the tourists. Not only can they admire numerous historical buildings, but also visit fabulous parks with rare species of trees. Opava has a great deal to offer to visitors in the way of culture (The Silesian Theatre, The Puppet Theatre, The Art House, and many private galleries) and recreation (stadiums and numerous swimming pools).
Opava has got well developed, machine, textile, paper and food industry.
Population: 64 000
The partnership agreement was signed on 1 st June, 1991 in Opava.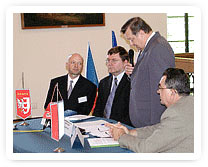 A joint session of the towns' councils. Photograph: on the right: mayor of Raciborz, Jan Osuchowski; vice-chairman of the town's council, Zbigniew Ciszek; primator of Opava, Zbynek Stanjura; Libor Martinek.
The fields of cooperation:
exchange of experience of the council's executive bodies;
initiation of contacts between public services;
creating conditions for further cooperation of cultural and arts, tourist and recreational organizations.
Magistrát Města Opavy
746 26 Opava
Horni námestí 69
tél. +420 553 756 111
Fax. +420 553 624 092
www.opava-city.cz
https://www.facebook.com/mestoopava/
Miasta partnerskie: http://www.opava-city.cz/cs/partnerska-spolupracujici-mesta