Tyśmenica
It is situated in the centre of Ivan-Frankov Region, in Carpathian Mountains. There are recognized companies like 'Tyśmienica', Ukraine-Dutch 'Tykaferlux' and numerous private firms. The town was granted municipal rights in 1448.
Tyśmenica with its rich history and culture, can boast of numerous celebrities.
Iow Kniagenicki (1550 –1621)- an artist and writer;
Kost Lewicki (1859 – 1941) – a historian and jurist;
Stepan Gawryluk a historian, founder and the first director of 'Museum of Tyśmenica History'.
There are also well known and recognised not only in Ukraine but also in Europe groups: a vocal group, 'Perłyna'; a dancing group, 'Tysmenyczanka' and a photo club, 'Kolumb'. Apart from that, the tourists can discover the works of a popular folk artist, Bogdan Staszkiw.
Population: 9800
The partnership contract was signed on 8 th May, 2004 in Raciborz.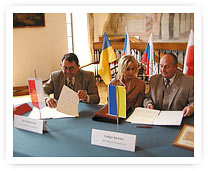 The fields of cooperation are:
sharing experiences on the local self-government's executive bodies,
municipal economy,
environmental protection,
development of small and medium sized firms,
education, culture, sports and recreation.
Town Hall Тисмениця
Україна, 77401, м. Тисмениця, вул. Галицька, 17
Телефони: +38 (03436) 2 43 36, +38 095 948 86 13
https://www.facebook.com/tsmth.if.ua