Roth
The town of Roth is situated in southern Germany, in Bavaria.
It has a great deal to offer to its visitors in the way of culture (Rednitz-Hembach Theatre, children's theatres, a literary cabaret, called 'Zum Krug', singing association 'Liederkrantz'). Moreover, the tourists can visit numerous historical attractions like the Raciborz Castle, churches, monasteries and town's gates.
There is also a cultural organization 'Kulturfabrik' offering a wide range of various activities both for children and adults (dance, theatre, cabaret and different exhibitions).
Area: 96.26 sq km
The partnership agreement was signed on 19 th September, 1992.
Raciborz, the 10 th anniversary of the signing of the agreement.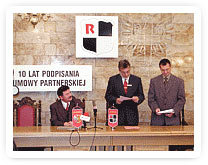 Photograph: on the left: Adam Hajduk – mayor of Raciborz (2001 – 2002); Richard Erdrmann - mayor of Roth.
The fields of cooperation are:
exchange of experience of the council's executive bodies;
initiation of contacts between public services;
creating conditions for further cooperation of cultural and arts, tourist and recreational organizations;
economic development.
Stadt Roth
91154 Roth
Kirchplatz 4
tél. +49 (0) 9171/848 512
www.stadt-roth.de